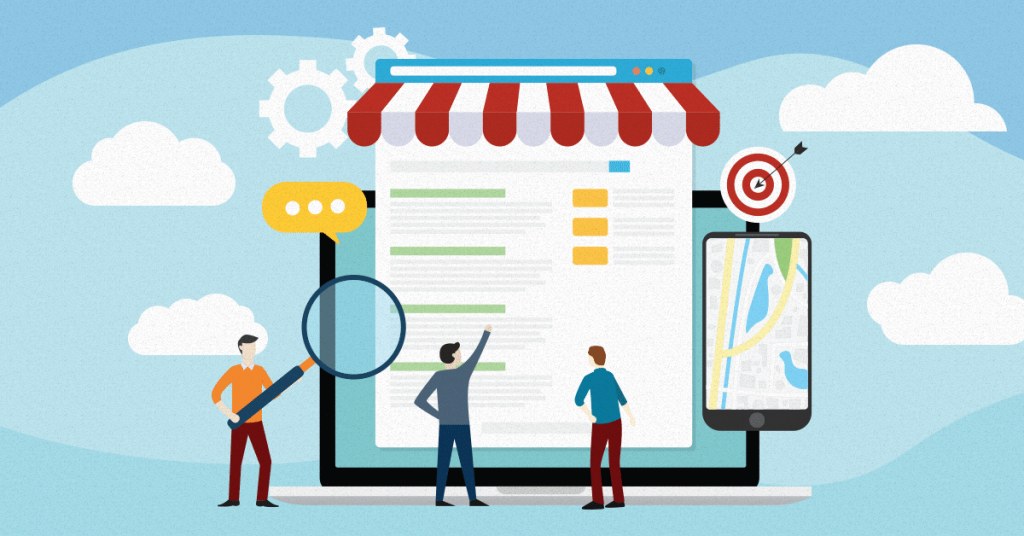 Local SEO: Boundless Opportunities
Are you ready to access a previously untapped market of lucrative sales and a returning customer base? Then you need to get your website to the top of Googles local listings with an expert Local SEO strategy.
Engaging with your local community via an online local listing can help to:
Skyrocket your sales
Generate a new, online customer base
Keep you one step ahead of competitors
Become more than a business – be a foundational pillar of your community
But the advantages of local SEO don't stop there. More people than ever are turning to search engines, especially on their mobile devices, to find local businesses. Location based marketing is the sure-fire way to make your site standout as the top listing in your city; telling prospective customers in your local community: "I'm what you're looking for – and I'm just around the corner!!"
Did you know that 80% of mobile searches in your city result in an offline purchase within 24 hours? Location based marketing can turn these searches into real customers coming through your doors.
Tap into the local search phenomenon:
People are searching locally now more than ever: 4 out of every 5 people use Google and Google maps to find local businesses – your business. Local searches provide relevant information – product availability, opening hours and directions – in an easy-to-read format that is rapidly overtaking any offline counterpart.
The best way to increase your local exposure is to implement a geo-focused SEO strategy: one that puts you ahead of the competition and places you at the top of local's Google searches. Goliath Media will use the power of local SEO to help you dominate not only the search results in your city, but the entirety of your region as well. We even have a secret weapon: location-based marketing can help you outrank even the big-name competition, no matter what size or how established your brand may be.
Our search gurus are ready to steer you towards the top of Google's leader boards and engage the local community with your business. Goliath Media experts are trained to optimise your website, design your Google My Business profile and craft a relevant, business directory listing for location-based queries. Our professional strategy will focus on optimising your local SEO, meaning that Google will associate your business with a certain area, increasing your local and regional exposure – translating to real, increased customer traffic.
Why does local SEO matter?
4 in 5 people use Google search and Maps to find local information
80% of local mobile searches result in an offline purchase within 24 hours
Outrank the big corporations in search results
Increase local and regional exposure – secure your niche
Local search matters because more than half of online searches now specifies a location. This is called local intent: consumers are stating the name of a city or postcode when they google search. For example, rather than searching "SEO agency", you might type "SEO agency Sydney." You're telling Google that you don't want just any SEO agency in Australia, you're telling it you only want an SEO agency located in Sydney.
Result in an offline purchase within 24 hours
Offline Purchase
Don't Purchase
But why are more people searching locally?
The answer is at your fingertips, in your pocket and on your nightstand: Smartphones.  Your site is only a curious click or impulse search away from reaching customers anytime, anywhere. The importance of SEO, coupled with the convenience of Smartphones, is reflected in these exciting statistics:
Studies show that 50% of users who search local on their phone go on to visit the physical store within one day.

That means for every one hundred people who see your website, fifty of them will walk into your store.
34% of computer and tablet users will do the same thing!

78% of all local-based searches on a mobile result in the customer making a purchase in-store.
71% of people say they search for the location of a business before a first-time visit. Your online profile quite literally directs sales to your door.
An important fact to understand is that Local SEO is built into Google: when a user searches for a local business, the three most relevant businesses will be highlighted at the top of the user's search – this is known as Google's Local Pack. This streamlines the process for mobile users, clearly displaying need-to-know details about the businesses such as trading hours and reviews. Depending on your niche, this is an immensely valuable tool for tapping into the mobile user market.
So, helping your business to outsmart your competition, increase customer traffic, and making your site stand out as a prominent business in your community; Local SEO is undeniably a powerful tool at your disposal. Our professional SEO strategy can take your business one step further however, by expanding your site's local exposure to send you to the top of Google's search listings – so you're the first thing local customers see. Our optimised SEO will catapult your business ahead of the big name brands, so that no matter the size of your business, you can be in control of your region's location-based marketing niche.
Why a Local SEO strategy has never been more important!
Lastly, Local SEO may still be new and relatively untapped by many businesses, but the truth is that its swiftly becoming a mainstay in the online world of marketing. If you intend to stay one step ahead of competitors and be the first, friendly face that local customers see, then you simply cannot afford not to rank high in your local search. Local SEO is vital for directing customers to your site when they search for you.
Remember, one in every two local searches that view your site will translate to a real customer walking through your store. Therefor it is imperative that your Google Business Profile and relevant details are up to date; but leave that in the capable hands of our search gurus. Talk to Goliath Media today about your local SEO strategy; your community is waiting for you.
Get in Touch
Talk to us today!